Individual transportation in Thailand
Taxis in Thailand
Taxis in Thailand, the real ones, are expected to have a counter (taximeter) and start it as soon as you get in. If they do not want to start it, insist! There is a price lump of care plus a price per kilometer. Otherwise, even if you are a virtuoso of trading, you will pay more than the price with meter. It also is possible to hire a taxi to make very long journeys. Note that all cities in Thailand do not have no taxis. Outside of Bangkok, taximeters are quite rare.
---
---
Tuk-tuks in Thailand
The tuk-tuk is probably the best known means of transport in Thailand. It is a tourist attraction. Contrary to what one might think, this is not always the cheapest transport in Bangkok. Often a taxi ride costs less. But it's still a pretty funny mean of transport and you must take a tuk-tuk at least once when coming to Thailand. It's part of the folklore ! Always negotiate the price with the driver before getting in.
---
---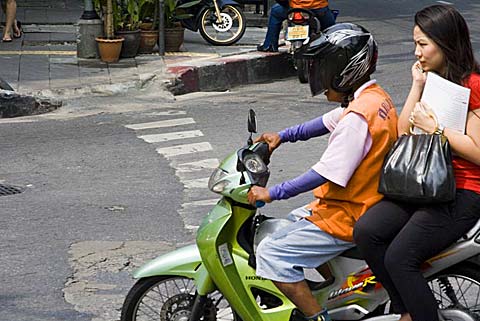 Moto-taxis in Thailand
There are motorcycle taxis almost everywhere in Thailand. They are much more common than four wheels taxis. The drivers are easily recognizable with their colorful vests (usually oranges). Thai people use them a lot. Moto-taxi is the cheaper and faster individual means of transport. But only a few drivers offer helmet to their passengers. Always ask for one !
---
Samlaws in Thailand
The Thai word 'samlaw' (or samlor) means three wheels. It is also used for tuk-tuks but we are here talking about pedicabs. The passengers take place in a kind of basket with a shot bench. These rickshaws usually accommodate only two passengers, three tops. They are not anywhere in Thailand and less and less numerous but they still exist. Their drivers are working hard and earn only a few bahts so if you have the opportunity, use them to help them support their family. It is nice sometimes to go a little slower and take the time to look around you.
---
Longtail boats in Thailand
Longtails boats are elongated boats propelled by a motor with a long metal bar looking like a tail. That explains their name. They are not particularly dedicated to the transportation of passengers but sometimes they offer their services to transport people or take them for a tour. In Bangkok, for example, numerous longtail boats offer visiting the klongs, the small canals running through the city and on all Thailand islands, they will make you discover the area. You can hire them for a ride or a one hour tour, or a day trip.