Here is the official program of Loy Krathong and Yee Peng Festival 2019 in Chiang Mai . It is surely the most beautiful festival of the city. I also give you a few tips and my favorite places as well as information on the big sky lanterns releases that will take place.
Official schedule for Loy Krathogn 2019 in Chiang Mai
Here is the official schedule that TAT Chiang Mai office sent me a few weeks ago. It is not complete, so I will and some events below.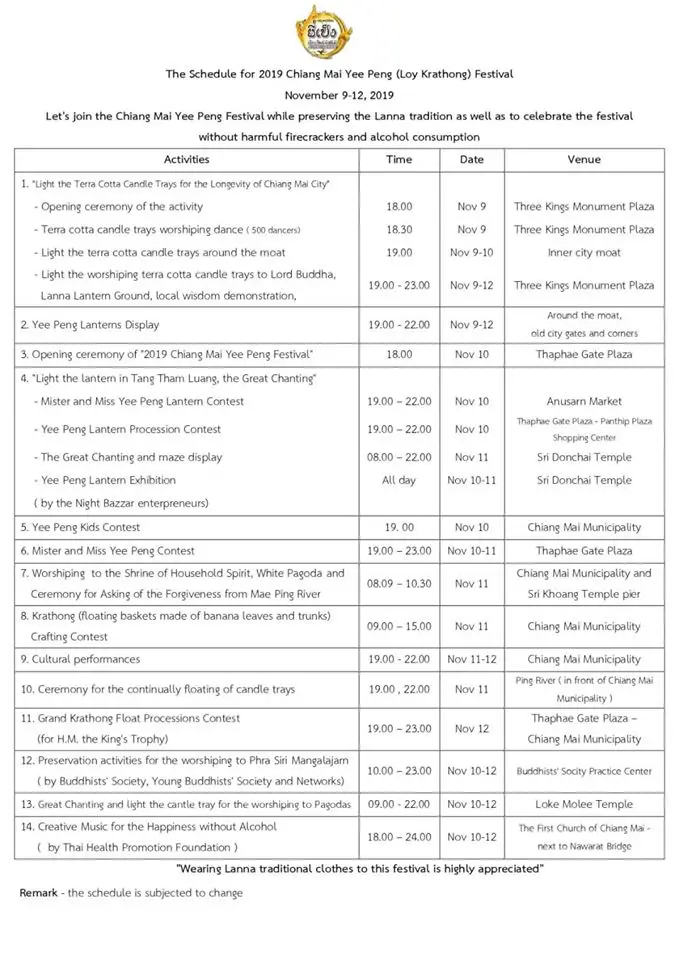 There wil also be the big Loy Krathong parade on Novembre 12th starting from Thapae Gate at 7 pm and going to Chiang Mai Municipality.
Two fireworks will be launched on the river Ping in the area of Chiang Mai Municipality on the same day at 7.30 pm and 9.30 pm.
Wat Pan Tao will held a beautiful candle ceremony around 7 pm on November 11th (and maybe the day before but I have no confirmation). But be there at least 1h30 in advance because there will be a lot of people coming early to have a good spot around the temple's pond to take good pictures.
Every evening but mostly on November 11 , on the banks of the Ping River or around the moat, you'll see people putting their small rafts with a candle and 3 sticks of incense. To see also the religious side of this festival, I recommend you to go to Wat Chai Mongkhon which has access to the river and is only a few minutes walk from the Iron Bridge.
Release of lanterns (free) in the sky of Chiang Mai
The two most popular gathering points for the sky lantern release in the city are the little Iron Bridge near the Night Bazaar and the Nawarat Bridge. 
These releases will only be allowed on November 11th and 12th, 2019 from 7pm to 1am.
There will be as each year of great pay releases that personally I do not recommend more than that seen the rates charged (see below) .
Big simultaneous sky lanterns releases in Chiang Mai
The best-known sky lanternrelease event in Chiang Mai is organized by a very controversial Buddhist association so I will not tell you about it but there are now others. But none is free of charge. Count from 2.000 to 4.000 THB soemtimes including a meal or a buffet.
There will likely be similar nights at Wat Ban Den and Wat Phra That Doi Saket but for the moment, I did not found information. Note that the links of reservations that I put are there to help you, I do not get any commission and have no relation with these websites.
That's it, I hope this article will help you to live an unforgettable Loy Krathong and Yee Peng Festival 2019 !