The days of 2019 are counted now and on December 31st, it will be New Year's Eve and if Songkran, the Thai New Year, is mid-April, there will be big celebrations with fireworks in many places in Thailand and of course in Bangkok. Here are some events and tips for spending the New Year's Eve 2020 in Bangkok.
BANGKOK'S BIGGEST FIREWORKS
I had already told you about it, the biggest  firework in Bangkok for New Year 2020 will be at the ICON Siam, a a big shopping mall installed on the banks of the Chao Phraya river.
There NYE event will start at 6pm with live concerts and end with the "Amazing Thailand Countdown 2020 Experience"  and its big fireworks showcasing the "Seven Wonders of Blessing", illustrating the rich heritage of Thai history, prosperity kingdom, nation, religion, monarchy and agricultural abundance.
You will find all the information here.
BANGKOK CENTRAL WORLD NYE PARTY
Before the opening of ICON Siam last year, it was another shopping center, the Central World, which had the reputation of organizing the biggest party  for New Year's Eve in Bangkok and of course, it continues to offer each year an event with live concerts and a big fireworks after the midnight countdown.
Their 2020 evening should offer an aquatic sound and light show in addition to the traditional concerts by Thai artists and fireworks marking the transition to the new year.
Many other major shopping centers will have live music and DJ nights on December 31st. I have put here only the most famous ones but many will have events.
NYE AT ASIATIQUE THE RIVERFRONT
Since its opening, the Asiatique the Riverfront has also each year celebrated the new year's eve and it will be the case again this year. There, too, live concerts, the classic life of this big night market and its big wheel and fireworks on the first minutes of 2020 are on the programme.
NEW YEAR'S EVE IN THE HEIGHTS IN BANGKOK
Rooftop bars or skybars installed on high buildings are also very popular on December 31st  evening in Bangkok. All have a special events and it is better to book in advance in the most famous ones.
NEW YEAR'S EVE AT THE TOP OF MAHANAKON TOWER
The Mahanakon Tower will offer Bangkok's highest New Year's Eve party and also one of the most expensive.
They actually have 2 formulas, one to "see the last sunset of the year" from 5 to 8 pm with DJ sets at the price of 4,500 THB with a glass of champagne included. And from 8.30 pm to 2 am, a more luxurious event with oyster bars, champagne, live artists, DJ and view on almost all the fireworks of the city for … 25,000 THB per person.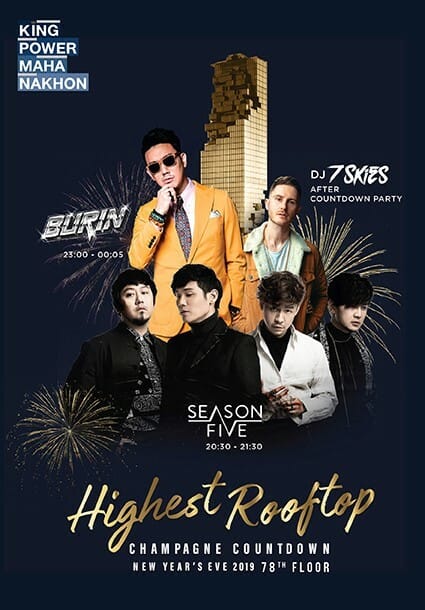 It's really expensive  and they have swelled the prices a lot compared to last year but I had to tell you about it anyway because I know you would have wondered if there was an evening at the Mahanakon Skywalk.
NEW YEARS EVE IN A SKY BAR IN BANGKOK
All the rooftop bars in Bangkok, from famous Sirocco Sky Bar at the top of the Lebua to  least known skybars will have a New Year's Eve party. I listed below the most known and appreciated ones. Contact them for the prices but, even if it will not reach the price of the evening at the Mahanakon Tower, expect a substantial budget.
Sirocco and Sky Bar
Lebua State Tower
1055/42 Silom Road
Web: www.lebua.com/sirocco
Tel: +66 2624 9555
Octave Rooftop bar
Bangkok Marriott Hotel Sukhumvit
2 Sukhumvit Road Soi 57
Web: www.marriott.com
Phone: +66 2 797 0000
Vertigo and Moon Bar
21/100 Banyan Tree Hotel, South Sathon Road
Web: www.banyantree.com
Phone: +66 2 679 1200
Zoom Sky Bar
Anantara Sathorn Hotel
Sathorn Bangkok, Thailand
Phone: +66 2 210 9000
Red Sky Bar
Centara Grand at CentralWorld 56F
Phone: 02 100 6255
Blue Sky Bar
24 / F, Sofitel Grand Centara, 1695 Phahon Yothin Road
Web: www.centarahotelsresorts.com/bluesky/
Phone: +66 2 541 1234
Cielo Sky Bar & Restaurant
Sky Walk Condominium, District W, Sukhumvit 69-71
(3 minutes walk from Phra Khanong BTS Station)
Tel: 02 348 9100 (15:00 – 24:00), 081 916 4270 (10:00 – 24:00)
Nest Rooftop Bar
The Fenix ​​Hotel, Sukhumvit Road, Soi 11
Phone: +66 2 255 0638
CRUISE DINNERS IN BANGKOK
On the evening of December 31, companies offering dinner cruises on the Chao Phraya River are also very popular. It's a nice way to dine while moving to see the fireworks visible from the river.
I will not recommend any company to you in particular but with a search on the keywords "bangkok dinner cruise" you will find them easily.
PRAYERS IN THE TEMPLES
It is less known to tourists but there is a tradition also in Thailand for New Year's night, of chanting prayers until dawn in some temples.
In Bangkok, last year, Wat Arun had one from 10 p.m. but I have no confirmation that this will also be the case this year. Wat Saket should also have something but also unconfirmed for now.
And there will be everywhere in the country, on the morning of January 1st, big alms offering ceremonies to the monks at dawn.
Note that Bangkok metros will exceptionally circulate until 2am.
I am obviously not exhaustive in this post but I tried to give you several types of different parties. There will be many evenings organized by nightclubs, some restaurants or hotels, other shopping centers that I have not mentioned but with the information in this article you already have quite a choice. And Khao San Road should also have its New Year celebration but every year, I can't get any details about what's planned there.