I will obviously not be exhaustive, but here is some information about New Year's Eve festivities across Thailand.
New Year's Eve in Bangkok
The biggest fireworks will be shot at the ICON SIAM shopping center, Central World and Asian The Riverfront will have great evenings with free access , the city's rooftop bars organize specific evenings and the Mahanakon Skywalk too, but for a very high budget.
I will put more information in my coming post about NYE 2020 in Bangkok.
New Year's Eve in Sukhothai
In Sukhothai, there will be 3 evenings in the central part of the historic park, a fabulous setting for a New Year's Eve party without glitter but with bright lights, stalls of Thai food and obviously a big fireworks display. This is probably where I will be going on December 31.
New Year's Eve
in Chiang Mai

Lots of things in Chiang Mai for New Years like every year with each big shopping center which will have its evening with live music or DJ and fireworks starting around 5pm. It goes from the Central Festival to the MAYA Shopping Mall via ONE Niman . Free admission.
The festivities organized by the city will take place at the Monument of the 3 Kings (see my schedule below) and there should be people who meet for the release of ascending lanterns at the Thapae Gate but no information about this for now. Probably because the sky lanternsmaybe prohibited.
None of the places that had organized big sky lantern releases in the previous years has announced an event for the New Year's Eve 2020 in Chiang Mai yet.
Many restaurants will also have special evenings with party menus, music, and fireworks. This will for example be the case of the River Market near the Iron Bridge but the list is long, too long to give it to you here
On the religious side, evenings of prayers and Buddhist chants will be organized, from 10 p.m. in general, in several temples of Chiang Mai:
Wat Suan Dok, Wat Ched Yod, Wat Phrathat Doi Suthep , Wat Chedi Luang, Wat U-Mong (the one a bit outside the city), Silver Temple (Wat Sri Suphan), Wat Jet Lin… the list is not exhaustive.
New Year's Eve in Phuket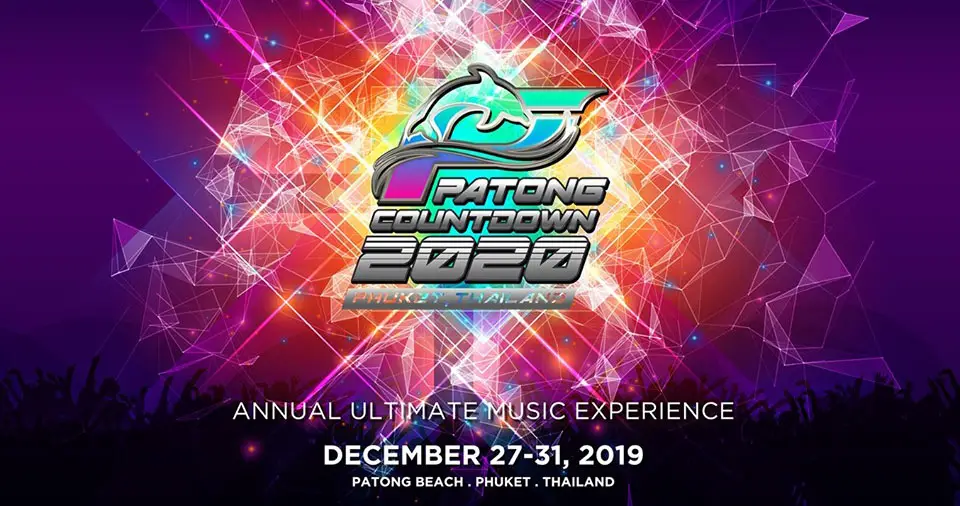 In Phuket , it will be on Patong beach that the biggest New Year's Eve party should be held. It will start at 6 p.m. and the party will start on December 27 and will continue every evening until December 31 which will see the DJ Diego Miranda animate the evening.

The other big New Year's Eve party in Phuket will be organized by the Central Shopping Mall on December 31 from 5 p.m.
New Year's Eve in Pattaya
In Pattaya, the big free evening will take place at Bali Hai Pier with the name of the city in bright colored letters in the background. There will already be parties on December 29 and 30.
Some other cities
I can not list every places of course but here are some other cities in Thailand where event or party will take place with free access.
Lampang: Tower clock
Lopburi : in front of the City Hall
Ratchaburi : along Pracha Pattana Dam (from 6 p.m.)
Kalasin : Kaeng Don Klang
Sa Kaeo: Indochine Shopping Mall
Phatthalung : Coliseum Intersection
Mae Sai (Chiang Rai): Thai-Myanmar Border Checkpoint
Udon Thani : UD Town Shopping Mall
Khon Kaen : Khon Kaen City Park
Generally speaking, if the city where you wil be on December 31 has a Central Festival, there is a good chance that they will organize something for the new year's eve.
This article is here to give you some ideas not to list every events. There are too any !