Held every year throughout the country, Loy Krathong is certainly one of the most awaited festivals in Thailand. This year, Loy Krathong will be celebrated on November 11th, the official date, and in some places, there is a whole festival with many shows and events. I list the most important and famous ones in this article.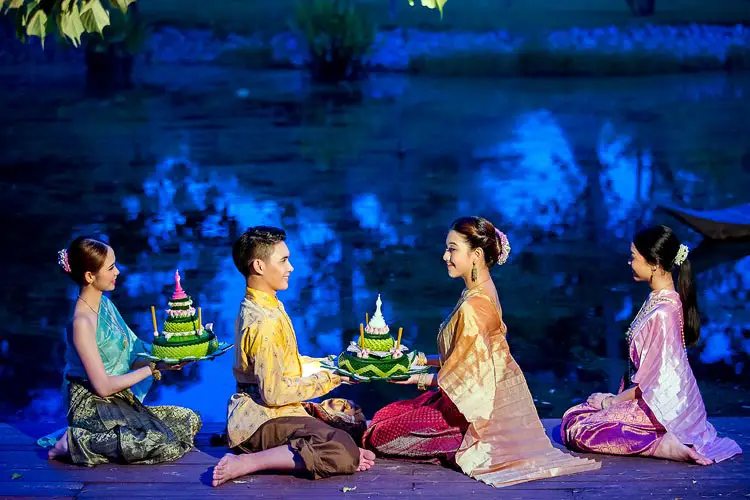 LOY KRATHONG FESTIVAL
Loy Krathong is celebrated every year on the full moon day of the 12th lunar month, which falls on a variable date mostly in November. This year it will be November 11th, 2019 (official date).
If you will often see images of thousands of lanterns in the sky to illustrate or announce the event, the historical tradition of Loy Krathong, the one that gave it its name, has nothing to do with them. Loy Krathong's tradition is to put small rafts with 3 sticks of incense and a candle on the riversn canals and ponds.
The lanterns in the sky came later and are more a tradition from Chiang Mai and its Yee Peng Festival which is held at the same time. But for some years now, these khom loy lanterns are only allowed in the North precisely and officially banned in Bangkok.
SUKHOTHAI LOY KRATHONG AND CANDLE FESTIVAL
The tradition of Loy Krathong was born in Sukhothai when the city was the capital of the Kingdom. For the occasion, every year, the central part of the historical park opens its doors for free in the evening for 10 days for one of the largest and most spectacular festivals in the country.
The highlights of these evenings are the two sound and light shows. One with paying tickets at Wat Mahathat and one completly free closing each evening at Wat Sa Si and on the surrounding pond.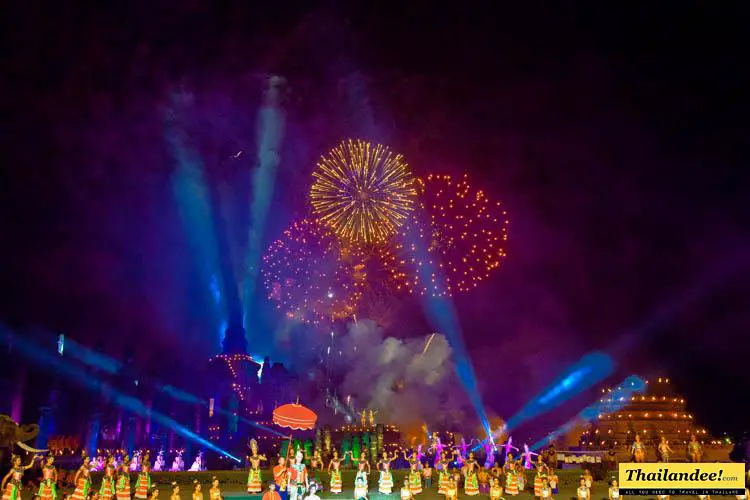 This year the Loy Krathong festival in Sukhothai will be held from 2 to 11 November 2019 .
I told you the full program of the festival in this article about Loy Krathong in Sukhothai .
LOY KRATHONG 2019 IN CHIANG MAI
Chiang Mai is for me, the best destination in Thailand to attend Loy Krathon for the first time precisely because the festival is combined with the Yee Peng festival and its big release of lanterns in the sky.
There is alos a nice candel ceremonie around Wat Pan Tao pound (see picture below) and many other events.
Programme of Loy Krathong & Yee Peng Festival 2019 in Chiang Mai
Otherwise, for a Loy Krathong with less foreign tourists, you can go to Lamphun 25 km from Chiang Mai, at Wat Hariphunchai and the river banks just behind.
SOME OTHER FESTIVALS OF LOY KRATHONG 2019
LOY KRATHONG 2019 IN BANGKOK
The Tourist Authority of Thailand (TAT) will organize a small festival at Santi Chai Prakan Park which is near Khao San Road from 9 to 11 November.
There will also be the River Festival held in 9 locations along the river from 9 to 11 November 2019. Same location than last year (see picture below).
LOY KRATHONG 2019 IN AYUTTHAYA
In the former capital of the Siam Kingdom , 1h30 drive from Bangkok, Loy Krathong will also be celebrated with several events. There too, since the water is surrounding the city, it will be quite easy to attend and participate in the release of krathongs.
On D-Day, November 1, at King Naresuan's Great Monument near Thung Phu Khao Thong, several activities including a krathong-making contest, beauty pageants, cultural shows, and a moon bath ritual to bring luck will be held.
But in general, for tourists, it is better to go to Bang Sai Arts and Crafts Center and in front of the National Museum of Chankasem or in front of the Srisuriyothai Pagoda. I think, the events there are more interesting.
LOY KRATHONG 2019 IN TAK
Little known by foreign tourists, Tak also organizes one of Thailand's best-known Loy Krathong festivals which is renowned for its long floating line of candles deployed on the river at Rim Sai Than Lan Krathong Sai at the foot of Somphot Bridge Krung Rattanakosin 200 Pi Bridge.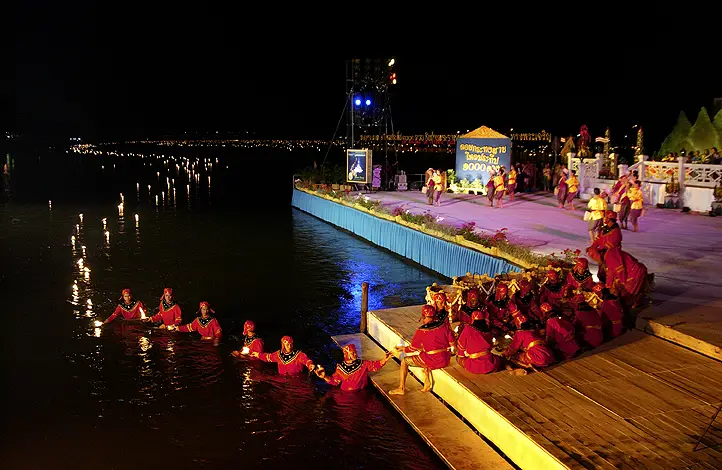 This year the Loy Krathong Sai Tak Festival will take place from 9 to 11 November 2019.
LOY KRATHONG 2019 AT SAMUT SONGKHRAM (AMPHAWA)
Another important festival in Thailand for Loy Krathong is taking place in Samut Songkhram, just over one hour's drive from Bangkok. The most significant event is held on the Mae Klong River in front of Wat Phummarin Kudi Thong the day before and D day with 200,000 (figure announced for this year) small rafts with illuminated incense sticks released at the same time. I attended the event in 2018, difficult to photograph but impressive !
The temple is near the Amphawa Floating Market but across the Mae Klong River.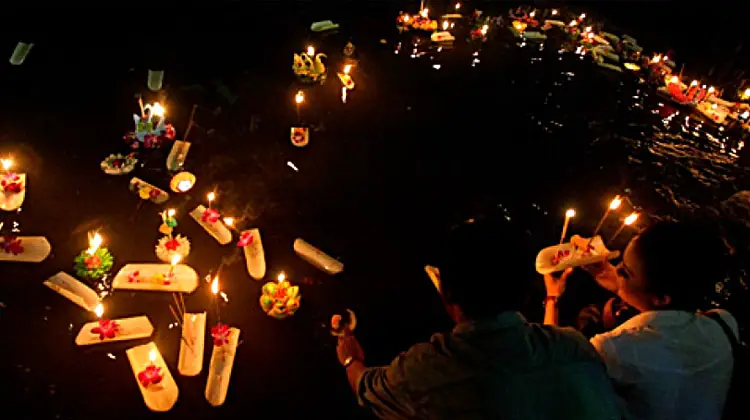 The festival will run from November 9 to 11, 2019.
LOY KRATHONG 2019 IN LAMPANG
Lampang also organizes each year a big festival, the Lampang Ngan Sapao Chao Lakon. This is the only place in northern Thailand to still make 'ong sapao' or krathong like junk.
The festival will take place 9-11 November at Ban Sing Chai Pier.
LOY KRATHONG 2019 IN ROI ET
The most important festivities in Roi Et will be held at Somdet Phra Si Nakarin Public Park and Bueng Phlan Chai on November 10th and 11th.
LOY KRATHONG 2019 IN PHITSANULOK
There will be festivities from November 7th to 11th in the Chom Nan Chaloem Phrakiat Public Park along the Nan River in front of Wat Ratchaburana and on the 10th and 11th in front of the big temple of the city, Wat Phra Si Rattana Mahathat.
LOY KRATHONG 2019 IN BURIRAM
This is obviously not the only event in the province, but two Loy Krathong parties will be held at Prasat Muang Tham , one of the most beautiful Khmer temples in Thailand on November 10th and 11th.
SOME OTHER FESTIVALS IN THAILAND
Loy Krathong is celebrated everywhere in Thailand and wherever you are, by going near rivers or ponds, you will see people kneelling at the edge of the water, make a prayer and drop their small craft raft. But there are other cities that organize a whole festival around. Here is a non-exhaustive list: