New Phuket bus to link airport to main beaches
Travelers arriving at Phuket Airport mostly immediately seek to reach one of Thailand's largest island beaches. Phuket taxis are reputed to be the most expensive in Thailand, there also are minivans to the main beaches and since yesterday there are buses, "Smart Buses".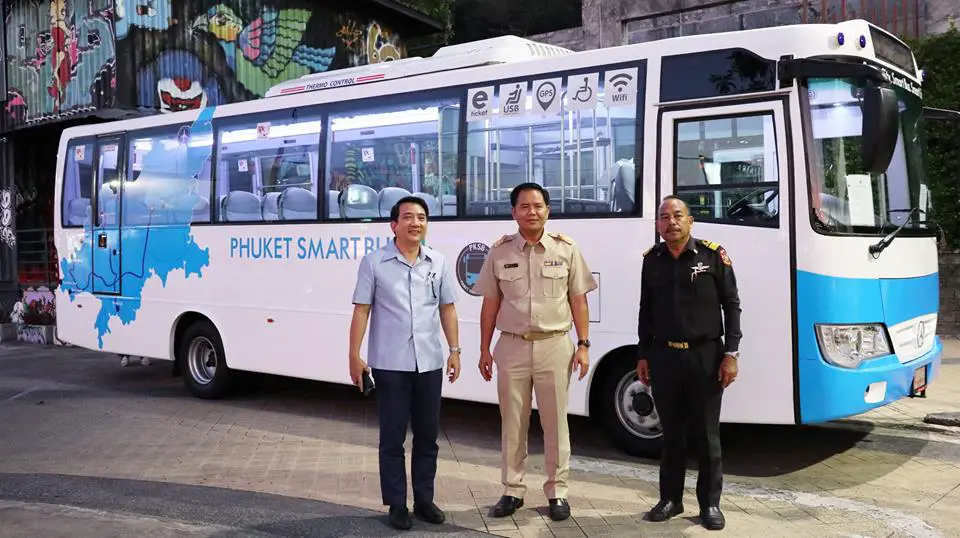 The new Smart Buses that connect the airport to the beaches of Phuket (official photo)
Airport bus to Phuket beaches
The first route of the Phuket "Smart Bus" was launched Wednesday. This line, the blue line, connects Phuket International Airport to Rawai Beach in the south of the island along the west coast and stopping at the most famous beaches. The trip covers a total of 56 kilometers. It's a 2 to 3 hour drive to get from the starting point to the terminus.
I do not have the details of the stops, there are currently 11 and 25 are planned in the short term to finally have up to 52, but I can at least tell you the beaches served by these new buses:
Surin Beach
Kamala Beach
Patong Beach
Karon Beach
Kata Beach
Rawai Beach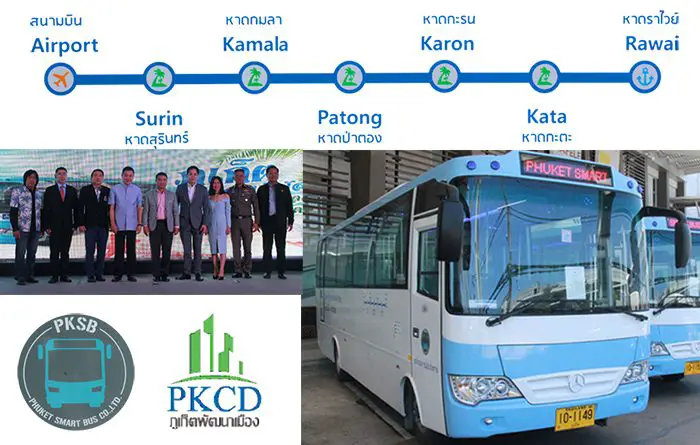 After a trial period that began yesterday, March 1, 2018, during which there will be a bus every 45 minutes from Phuket Airport between 9 am and 5 pm, the service should intensify, start at 6 am and stop at 20h.
I will keep you informed on my Facebook page and on Twitter of schedule and frequency changes.
To board the bus, passengers will need to buy a "Rabbit x Phuket" smart card, on the bus or at more than 60 partner stores in Phuket. This card, based on the principle of the existing Rabbit Card in Bangkok, makes it possible to pay and obtain discounts in many stores such as Mc Donalds, Tesco Lotus, Family Mart ….
Although the price of the trip is between THB 50 and THB 170, it seems that you have to pay at least THB 300 to acquire this card, which will be credited with THB 200 (so if it calculates well the card itself costs THB 100). But you do not have to go to Mc Do Swallow Big Macs to use your remaining credits, you can keep them for the return or to travel from beach to beach during your stay. You will be more comfortably installed than in the old local buses.
This "Rabbit x Phuket" card, once acquired, is charged. You can add money on Smart Buses or partner stores. Yes, a classic ticket would have been easier but you have to live with its time;) Let's say that it is especially if you make a single trip that you will pay more than necessary.
Although, I do not know if it can be used to pay the bus for several people or if one card per passenger. If you buy the card on the bus, you can pay in cash of course but also by Visa card. The information provided refers only to this type of card, Visa being a bus partner. We can imagine that payment by Mastercard, American Express or other is not possible but it's just a deduction from me that will confirm.
Why are they called "Smart Bus"?
No, no, the buses put into circulation have not passed an IQ test, it's just that they will be connected buses with WIFI on board, GPS geolocation (you can follow the buses in real time on this link), CCTV cameras and a USB port at each seat. In short, buses that live with their time. These will be new Mercedes (Deutsche Qualität;)) buses ordered for the occasion and chosen in particular for their reliability and their good brakes, an important criterion when we know the topography of the island and in particular the descent to Patong, and because they offer more room for luggage.
They are also praised by the initiators of the project for their comfort and their large windows that allow to enjoy the view.
It has been a long time since a solution is studied to offer more possibilities of public transport to move to Phuket which is still poorly endowed with this side. A priori, it is a first bus line that should be followed by others.
But no information was divulged on any future bus lines in Phuket in terms of both route and set-up times. Wait and see …
But there is no doubt that the buses that have been circulating since Wednesday will find their public because such a service was highly anticipated. Having not had the opportunity to test and yesterday's service, you have seen, I still have some small areas of shadows. I will update this post when I will get reviews from my followers.