I admit it's a bit subjective, but Thai Smile is my favorite airline for domestic flights in Thailand. Unfortunately, they are often more expensive than Nok Air, Air Asia or Thai Lion Air (and it is justified because quality and especially onboard service is better) so I do not take them often except when there are promotions like now with air tickets to travel in Thailand at 900 THB (25,40 €). All-inclusive price including 20 kilos for checked luggage.
Good promotion on internal flights in Thailand
The current Thai Smile promotion aims to encourage tourism during the rainy season in Thailand. And again, traveling in Thailand during the rainy season is far from unpleasant, it's even, from my point of view, the best time to visit the North and Northeast.
To obtain flight tickets at 900 THB, you must book on the company's website today or tomorrow (before midnight Thai time) knowing that the offer applies only on tickets for flights until 30th September 2019.
So if you are planning a trip to Thailand this summer but have not yet booked your domestic flights to get around in the country, go have a look !
Flights Bangkok – Phuket at 25€
Flights Bangkok – Chiang Mai at 25€
Flights Bangkok – Krabi at 25€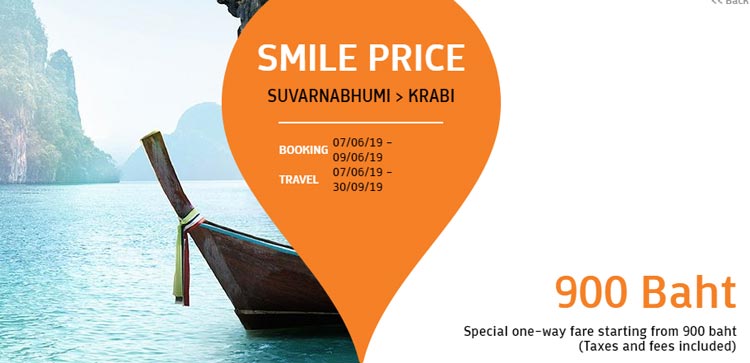 Flights Bangkok – Chiang Rai at 25€
Flights Bangkok – Udon Thani at 25€
There are other destinations like Khon Kaen with tickets at this same rate. I let you go see all this on the site of the airline and make simulations for your dates hoping that you will get this price and if so, do not hesitate !
You can certainly pay around 50 THB less, always with 20 kilos of checked baggag  with a Nok Air promotion but frankly for such a small difference, choose for Thai Smile !
For those who do not know this airline, it is the low cost subsidiary of Thai Airways.
And do not hesitate to follow me on Facebook and Twitter to see the promotions and tips that I share !