The impressive Wat Phu Tok and its mountain
In Thailand, a country where the majority of inhabitants are Buddhist, there are temples everywhere. Even on mountains which are not that practical to build a worship place. This is the case of Wat Phu Tok, in the province of Nong Khai. A visit not for those who have fear of heights!
More than the temple itself, it is the whole system of bridges and wooden stairs going around Phu Tok, the mountain where the temple is, that makes the visit interesting… and a little scary !
Visiting Wat Phu Tok
When you arrive in the car park at the bottom of the mountain, you have a modern marble chedi containing relics of Ajahn Juan, the monk who started the construction of all staircases and wooden walkways, a pond, a sanctuary and a small door from which the staircase to climb to the 7 levels of Wat Phu Tok begins. Then, you will soon reach a junction. At your left, the easiest path, and therefore the less attractive one that gioes directly to the 5th level where the shrine is located, and at your right the way to the slower ascent, mainly made of wooden walkways  hung on the side of the mountain.
I advise you to take the right path of course. The walkways suspended above the void is the whole point of visiting the place ! In addition, you will have great views of the mountains and surrounding countryside.
The ascent goes through a wide collection of wooden ramps and ladders on seven levels, symbolizing the seven steps to Buddhist enlightenment. The last level is not recommended to the public because there are snakes but it also is the least interesting level of Phu Tok mountain.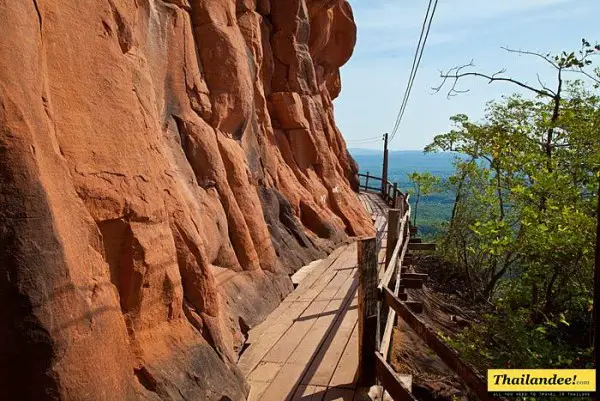 The first three levels take you through the forest below the treeline, passing by big tropical trees. But this is just the appetizer !
The 5th and 6th levels are the most impressive. But you will be now used to walking int he heights above hundred meters of void. So no worry ! 😉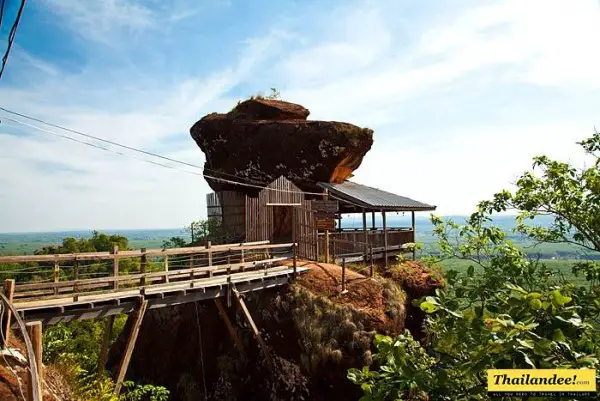 At 5th level, you have access to a small temple planted on a separate rocky peak with a large rock on the roof. A place where the view is magnificent. This level also houses a cave decorated with Buddha statues, the "temple", with a large floor where pilgrims can stay overnight (apparently now forbiforeigners are not allowed to stay overnight beacause some behaved not properly in the past) . Here you will have drinking water if you ever get thirsty. Then comes level 6.
It is often said that the 7th level is closed to the public but you can actually access it at your own risk, a sign (in Thai) warns you against the many snakes living up there. it is up to you but we don't advise to go ! The top of the mountain is a lot less interessting.
You can have a look on our Youtube channel, Wat Phu Tok in video is even more impressive than in pictures !
The stairs are open to the public free of charge from 6:30 am to 5 pm ( except during Songkran in mid-April) but sometimes closed when it rained and they are too slippery. It takes approximatly two hours to fully browse all levels of Wat Phu Tok and enjoy the mountain.
The history of Wat Phu Tok
The temple was founded on the hill in 1968. It is monk Ajahn Juan who began to build the wooden stairs and walkways on 7 levels around the mountain symbolizing the 7 levels of the Buddhist enlightenment. Unfortunately, he was killed in a plane crash in 1980.
Since then, the temple monks maintain the spectacular set of wooden stairs and walkways. They are not particularly difficult just impresive a little scary if you are afraid of heights. But watch anyway carefully where you put your feet and do not lean on rails to much. I have not seen any really risky or damaged part (except for a condemned section) but still the place does not match to the safety standards we are used to. So be carefull. As for me, climbing Phu Tok with little children is also not recommended.
Going to Wat Phu Tok
Wat Phu Tok is 35 km away from Bueng Khan, a small town 130 km at the East of Nong Khai. If you can visit it from Nong Khai or Udon Thani in one day, it takes several hours to drive here (3-4 hours to go and and 3-4 hours to come back). It is best to get a room at Bueng Khan and visit the temple from that city. A trip from Nong Khai to Bueng Khan by bus or minivan costs 150 baht (3 hours).
There are only a few guesthouses and hotels Bueng Khan but you'll find a room without difficulty. Personally, I stayed at Maenam on the banks of the Mekong.
To go visit Wat Phu Tok, you can hire a tuk-tuk near Beung Kan clock tower. It will cost you around 800 THB for the round trip and 2 hours there. If you are a bit more daring, you can take bus 225 from clock towe again and stop at Si Wilai (20 THB, 45 minutes) and then hire a tuk-tuk to Wat Phu Tok (around 300 THB for a round trip).
Try to see with your hotel or guesthouse in Bueng Khan if they can help you arrange the visit. But just know that the city only receives very few foreign visitors. So there may not be used to deal with that kind of matter or even may not speak English.
The best way to go to Wat Phu Tok is to have your own car, motorcycle or scooter. (Wat Phu Tok GPS coords:  18.13137392,103.88148308)